Manipulation of the Spine Thorax and Pelvis
This highly illustrated, step-by-step guide gives detailed instructions for 41 different manipulation techniques, covering all levels of the spine, thorax, and pelvis. The book also provides the related theory essential for safe and effective use of manipulative techniques. The text includes an accompanying DVD-ROM that contains videos demonstrating High Velocity Low Amplitude thrust techniques described in the book.

Key features:
Provides a comprehensive review of spinal kinematics and spinal positioning and locking.

The only osteopathic text with a specific focus on the acquisition of skills relating to the application of high
velocity thrust techniques.

Makes clear the risks and emphasises the points to be aware of for safe practice - contains the most current information available relating to safe practice of HVLA thrust techniques.

Up-to-date, comprehensive and extensively referenced.

Techniques described in the text are illustrated with photographs within the book and supported by demonstration video clips on the accompanying CD-ROM.

Includes a troubleshooting section on how to deal with difficulties in the application of HVLA thrust techniques.

Includes a video introduction to cervical and lumbar spinal positioning and HVLA thrust techniques that also includes unique fluoroscopy of coupled movement in the thoracolumbar spine in different spinal postures.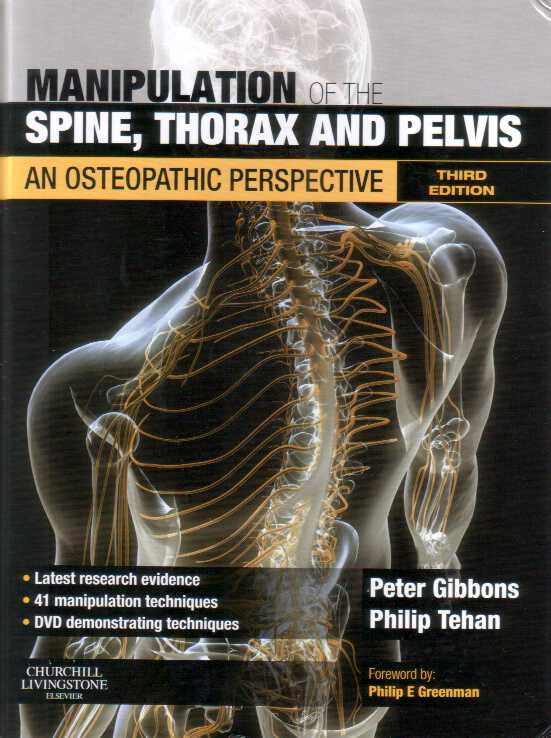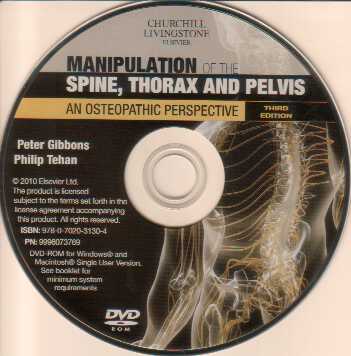 Part A.
HVLA thrust techniques - an osteopathic perspective
Introduction.

Osteopathic philosophy and technique.

Kinematics and coupled motion of the spine.

Spinal positioning and locking.

Safety and HVLA thrust techniques.

Rationale for the use of HVLA thrust techniques.

Validation of clinical practice by research.
Part B.
Section 1. Cervical and cervicothoracic spine - HVLA thrust techniques
Section 2. Thoracic spine and rib cage - HVLA thrust techniques
Section 3. Lumbar and thoracolumbar spine - HVLA thrust techniques
Part C.
HVLA thrust techniques - Pelvis
Part D.
Technique failure and analysis
DVD ROM
Supporting DVD-ROM accompanies the text with video clips providing an introduction to spinal positioning and locking in the cervical and lumbar spines and video footage of techniques described in Parts B and C of the book.
Author Information
By Assoc. Prof. Peter Gibbons MB, BS, DO, DM-SMed, MHSc. Melbourne, Australia
and Assoc. Prof. Philip Tehan DO, DipPhysio, MHSc. Melbourne, Australia
Video of spinal coupling in the neutral posture - To be added
Video of a lumbosacral HVLA thrust technique - To be added